Tired of warts and verucas?
Two effective treatments for warts
and verrucas
With two easy-to-use options, EndWarts® PEN and the unique EndWarts® FREEZE, we
offer easy and effective treatment for the whole family.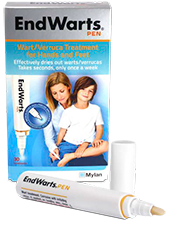 EndWarts® PEN is an effective wart treatment that takes only seconds to apply. The solution can be used by the whole family to remove warts and verrucas on hands and feet. For children under 4 a HCP should be consulted.
Find out more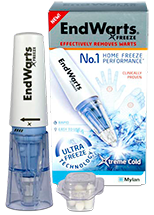 EndWarts® FREEZE is our latest alternative to EndWarts® PEN that uses rapid freeze technology (otherwise known as cryotherapy) to effectively remove warts and verrucas from hands and feet.
Find out more
Want to know more about
warts and verrucas?
You can learn more about warts and verrucas in the sections below.
What are warts and verrucas?
Wart and verruca prevention
Wart and verruca treatment
END-2021-0213:October 2021